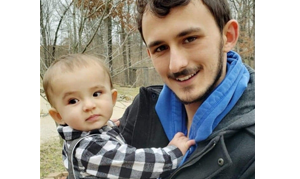 Meet Eric Obermuller
From the very beginning – during my two internships and when I was the first computer engineer hired within the Yaskawa operations group -- my experience with the company has been fantastic. I saw right away that Yaskawa gives interns important projects that make a difference for the company. That's very empowering and gives you a sense that you are valued.
That feeling of doing work that matters on a team continued throughout my internships. My first project involved automating the printing of of all our enclosure nameplate labels. On a day-to-day basis, I wrote code. All the while, working closely with our line workers.
Being the first software related engineer within operations, I had to learn everything on my own. I led the creation of WPF desktop applications that interface SQL databases in order to automate the printing of all our nameplate labels.
Every day, I would talk with our line workers to ensure the program worked well for their needs and gave them an easy interface. Even as an intern, I felt respected among my team. And, I never felt like a bother during these talks.
You know, Yaskawa is a very large company with employees across 26 countries, but to me it still has that hometown feel. Everyone has always been more than willing to answer my questions and help me along in any way they could.
After initially automating nameplate labels for some of our product, my team realized what a benefit a software role could have in the day-to-day operations.
My eyes were really opened to the world of software engineering after that first internship. I never really thought about becoming a software engineer while in school. I didn't know what they even really did.
But, my experience with Yaskawa showed me that my work made a visible difference for our employees. I learned a great deal at the same time. This opportunity at Yaskawa really reflected who I am as a person. I also saw that everyone has pride in the work they do and wants to make the best product possible for our customers.
At Yaskawa the motto is "Its Personal" and I have to say they really mean it.
My experience has enabled me to make the most of my education. Before starting my first of two Yaskawa internships in June 2016 as a software engineer, I went to the University of Missouri of Science and Technology in Rolla, Missouri. Before starting my first of two Yaskawa internships in June 2016 as a software engineer, I continued working part time during the school year before returning for my second internship in June 2017. Then I continued to work part time from home during the school year until graduating with my Bachelor's degree in computer engineering December 2017. At that point, I was offered – and gladly accepted -- a software engineering position with Yaskawa within operations.
Today, I work remotely from Missouri as a full-time software engineer for our operations group. I come up to Wisconsin once a month and every time, it's as if I never left! I have really enjoyed working for Yaskawa these past few years and couldn't have asked for a better employer.
Node: lr1