Inside Sales: Hectic. Busy. Fulfilling
Things are not slowing down for Yaskawa's Inside Sales team, but that's not stopping the group from doing all it can to keep customers happy. That's one of the reasons Inside Sales is considered a strength at the company.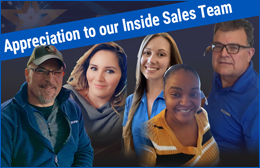 Pictured from left to right: Scott Monaco, Lourdes Paramo, Samantha Green, Carol James, Ronald Carvajal
"Yes, it has been very hectic. Very busy. And there are lots of challenges," Assistant Manager, Kurt Stahl, said. "But it feels good to know we are working so hard to help our customers. We're doing a lot more follow ups with them. Checking in to see how they are getting along. Really, we are just trying to find any and every way we can help them."
Stahl has worked at Yaskawa since 1998 and started in Inside Sales. He moved to a group leader and then a supervisor before becoming the Assistant Manager of Inside Sales 10 years ago.
The department at Yaskawa is run by Stahl and two supervisors – Jody Colomer and Scott Monaco - supporting 17 inside sales reps and a receptionist. Someone is on call 24/7.
Yaskawa Director of Customer Experience, Cris Franco, said, "I'm so glad we are talking about this team. These people have worked above and beyond to meet customer needs. They handle so many calls. Process so much data. Track so much activity. And, really, error-free. They are superstars."
Monaco is directly responsible for the semiconductor business. "Over 20 years, this has by far been the most challenging time I have seen," he said. "But we take a lot of pride in doing all we can to be there for our customers. Sometimes it feels like a game of whack-a-mole, but we keep moving."
Stahl explained the critical role Inside Sales plays within the company.
"We are pretty much the frontline for the customers, as we support outside sales and all of our partners," Stahl said. "It's more than entering orders for us. We are also filling in for reps when they are offline. We know the product. We know the customers' businesses. So, we can help them intelligently. And, if we can't do that on the spot, we get back to them quickly."
Stahl said the department sports a lower than .5% abandoned call rate. Wait times are less than 30 seconds on average.
"We are very proud of how we service our customers," he said. "The calls we get are a mix. Sometimes it's a simple order. Other times we get more in-depth with the customer and work with them to find the right product or part for them. We can find what they need even when they are unsure of what that might be."
"We're really good at developing relationships with the customers," Stahl said. "We divide our team into territories and by application where possible. That means we have a keen understanding of their process and systems."
The Inside Sales team is playing an unsung role at Yaskawa, Franco said.
"You can't believe the long days. Sometimes 12-13 hours at a time. Despite the grueling schedule, the quality is there. The focus is there. They are totally committed to representing Yaskawa and supporting our customers and partners. We wouldn't be doing as well as we are without them."
Node: lr1