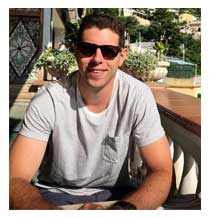 Meet Steve Petershack
Steve is a Sales Engineer for the GA/TN Yaskawa Territory. Petershack recently took some time to share his thoughts on his experiences at Yaskawa.
I always planned to study Mechanical Engineering at University of Wisconsin in Madison ever since I was seven years old. I ended up doing just that, and during my time at Madison, I found the opportunity to work in the Medium Voltage department of Yaskawa as a co-op. I spent about eight months in the MV department learning what a Medium Voltage drive was and helping to design and draw different mechanical components. It was a great introduction into seeing how different segments of engineering (electrical and mechanical in this case) have to work together with a common goal in mind. I continued in the MV group with another internship and accepted a full time role as a mechanical engineer coming out of college.

I spent the next two years in the MV group doing product development. I took on large projects with the help of coworkers and designed how new Yaskawa MV drives would be constructed and produced. It was amazing to be able to start with just an idea and through many weeks of computer solid model design, computer simulation, team meetings, and construction to create an actual commercial product. My time with the MV group allowed me to be creative and inventive – two of the many things that drew me to becoming a mechanical engineer.
While working in the MV group, a new Sales Training Program was announced to all of Yaskawa. The ability to work with a technical product, create many relationships, and grow my knowledge and skills in another position is what attracted me to the training program. Being told I would be placed in a territory anywhere in the US after the program was a cause for nerves but also excitement. After applying and taking some sales assessments I was accepted into the program.
The Sales Training Program consisted of quick rotations in different departments of the company that would help my knowledge of drives and the inner workings of Yaskawa. I started in the repair group learning the hardware of the drive, troubleshooting physical problems, and repairing all different types of drives. I next went to the technical support group where I learned how to troubleshoot problems over the phone, thus increasing my knowledge of programming and wiring. From there, I joined the applications engineering group where I got to test new products and delve into specific application problems. I continued in the Building Automation group learning how to read a specification and prepare a quote in the HVAC world. I then got to join the training group and experience how we train our employees and customers, eventually being able to host my own class of customers. Finally, I went to Inside Sales where I learned the order entry process along with credit, returns, and stock and delivery. Learning all of this over 18 months was an incredible experience that exponentially increased my drives understanding and just as important, allowed me to form relationships with an abundance of people in the organization who will help in my sales role for years to come.
I found out that I would be receiving Georgia and a portion of Tennessee as my new sales territory. Fast forward and I have been the sales engineer for Georgia for just over a year. It has been a fantastic experience so far and I have loved every second of it. Being able to come down from Milwaukee to Georgia and form relationships with our distributors, OEMs, and end users has been delightful. The Sales Training Program prepared me for everything I have faced as a sales engineer so far
Node: lr1